Glassdoor is often the first place a potential candidate visits before applying to a company. Whether it's to research the interview process or read reviews, it's a trusted destination to assess the opportunity. Many companies know this can help or hurt the recruiting effort. What most don't know is that a negative reputation on sites like Glassdoor and Indeed can creep into a company's culture and affect employee retention, engagement, and even sales.
The Problem
Unfortunately, you had to let that employee go. And, of course, they're pissed. Their first stop? Glassdoor and Indeed. That employee that loved the company on their last engagement survey, is now reframing every experience as an awful mistake and can't wait to tell the world.
Bad reviews on Glassdoor can have major impacts throughout your company. The best potential candidates will see the negative Glassdoor reviews after a simple Google search, and then apply elsewhere. This drives recruiting costs up and often leaves your company to hire the second or third best candidate. The negative impact doesn't stop there. We have seen how a disgruntled employee, or group of employees can do a lot of harm;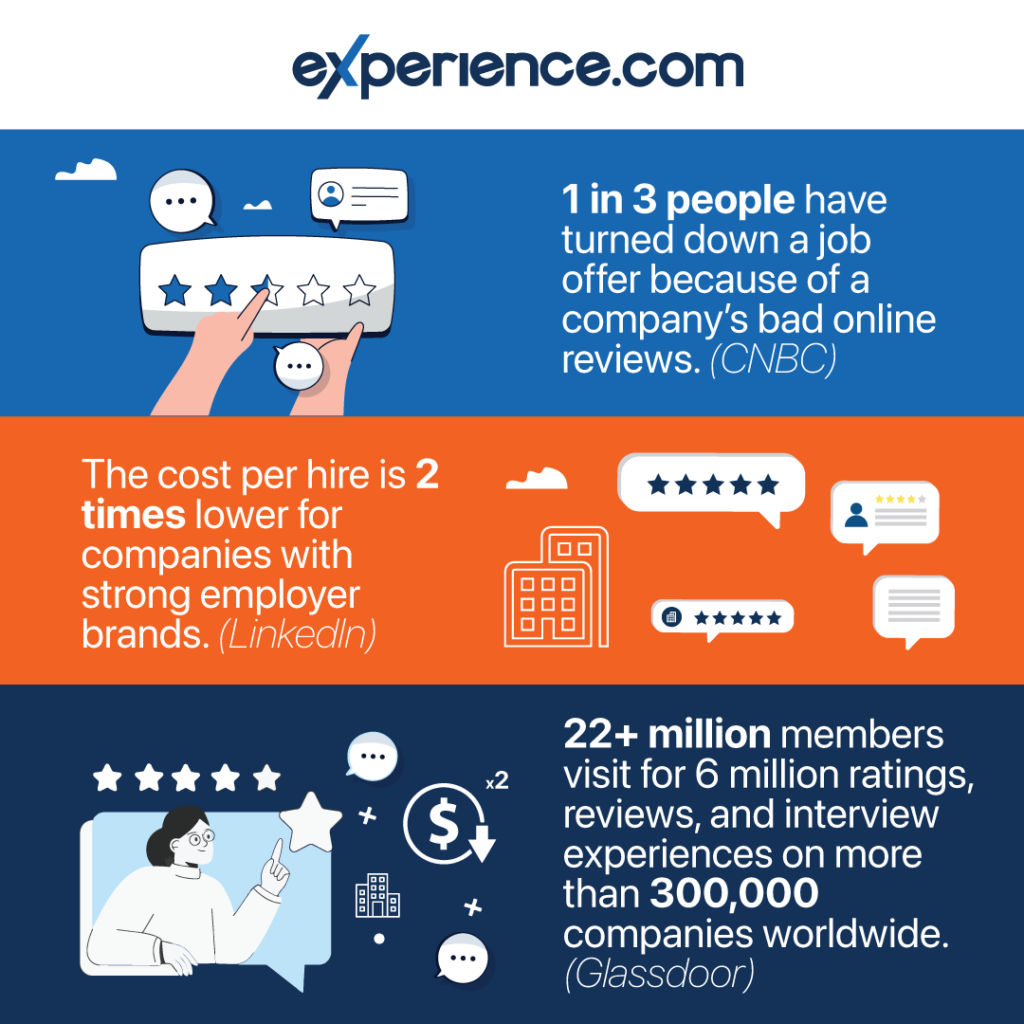 Increase of recruitment and hiring costs – The perfect recruit will often have a lot of suitors. Count on spending way too much of the interview explaining why they shouldn't focus on the bad Glassdoor reviews. The likelihood of this recruit joining is low, and if they do, plan on paying way more than the market compensation.
Impact in team morale and company culture – The simple truth is that employees read your Glassdoor and Indeed reviews. It touches everyone. Someone leaves a scathing review. Whoever sees it first will feel obligated to share it with others, and so on. Other unhappy employees will use it as affirmation that they are right. This cycle doesn't go away. Then, be prepared to listen to every employee who has a complaint about anything to bring the reviews into the conversation.
Lost sales opportunities – Unfortunately, a new and unexpected dynamic is taking place, customers are now reading Glassdoor and Indeed reviews before buying. These sites are highly indexed and when a potential buyer looks up your company, the Glassdoor results are often on the first page of Google search. Also, we have seen former unhappy employees write reviews on other sites like Google, G2, Yelp, and BBB, just to make sure potential customers see their comments.
Creates a suboptimal company culture – When everyone is talking about your bad Glassdoor reviews, no one is celebrating your great culture or working to enhance it.
Companies with better average ratings are significantly more likely to see views converted to traffic, new recruiting opportunities, and new sales. Good reviews build a foundation of trust and credibility. Negative ones damage your brand, profitability and the trustworthiness of your business.
The Solution
How do you turn this headache into a big opportunity? Harness the voice of your employees. Here's a simple 3-part approach to solve the Glassdoor problem and improve employee's experiences.
Evolve Your Quarterly Engagement Surveys
The outdated method of yearly surveys, especially those sent right after holiday bonuses and family-time reprieve, is no longer acceptable. Whether you opt for anonymous and non-anonymous, quarterly engagement surveys should be a part of your employee listening program.
As always, collect standard employee feedback. Add to this specific-to-role feedback in a few short questions. Then, automatically redirect your happiest employees to Glassdoor or Indeed. This workflow works every time. Say something like, "Thank you so much for your great feedback. If you have another minute, can you leave your comments on Glassdoor so potential employees can read about your experiences?"
As for the unhappy employees, it's important to make them feel heard, and work to resolve their issues. Glassdoor has over 1 Million online profiles. And the average rating among all profiles is 3.7 Stars. What does this tell you? Unhappy people write Glassdoor reviews without being asked to do so. Happy employees don't. Your job is to ask them. And, keep asking them periodically, automatically.
Invest in Active Listening
As the definitions of work and workplace continue to change, it is more important than ever to connect with employees at each meaningful moment in their work journey. It is time to stop thinking about your EX program as a project that happens once or twice a year, and start thinking about it as a conversation that never ends. There are dozens of moments each year that we should check in with our teams.
Here are a few important priorities to consider when evolving the EX program for your company:
Connecting with employees should almost never feel like a survey
Listening is active motion and therefore won't always happen simultaneously
Every outreach should be personal and human
Resolving your Glassdoor pains is a simple outcome of investing in an active listening program. If executed correctly, you can put the entire program on auto pilot. Here are a few more outcomes a good EX program will create;
The greater insights you have into your employee (and potential employee) sentiment, the better. Creating an intentional employee experience management program is about getting greater insights to prioritize and drive leadership action. Don't make the assumption you know how your employees feel by asking them to take a single annual survey, or not asking at all. Open a safe space for feedback, engagement surveys, and conversations about performance, training, compensation, and more with a strong experience management strategy. Your employees are your biggest asset and the primary driver of company success.
Find the Right Partner
When searching for the right partner to deploy an active listening EX program, here are 5 things to focus on;
Extreme flexibility – it needs to be easy to design, build, and test new moments in minutes, without the help of a coder or a consultant
Maximize personalization – it must be able to send any message, and collect any data, from the right leader, to the right employee, at exactly the right moment
Easy workflow management – it needs to automate additional workflows, like escalating
Unlimited Integrations – If the platform is not open, run. It needs to integrate with any data source, and it needs to be able to map to any data source (i.e. Tableau, Domo, PowerBI, or Slack, Teams, and even gifting platforms)
Advanced dashboards and reporting – every journey moment is different. Checking in about a training experience is very different from a quarterly engagement survey, or an exit interview. But each of these offer critical insights. Dashboards, reporting and API integrations must be flexible and customizable.
The key to doing this successfully is extreme automation and partnership. Finding the right partner to invest in is challenging, from integration options, ease of use, customer support, and the capability for your solution to suit your company size and business units.
The Results
Winning on Glassdoor and Indeed while improving the work experience of your employees can be simple, automated, and extremely powerful.
At Experience.com, we put the above theory in action, partnering with our very own Employee Experience Management Platform (XMP). We came up with 12 strategic questions that assess our employees' feelings of satisfaction, engaged their opinions for growth and, with an NPS and Gateway question, identified where they fell on a happiness-scale. Those reportedly happy were asked to share their happy sentiments on Glassdoor while those who weren't as satisfied we escalated to the proper channels so that employee's experience can be resolved and they could also become an advocate.
Our Glassdoor was muddled with nasty attacks and only our churned employees were talking about their employee experience. After deploying this workflow we gathered great internal feedback AND boosted our CEO's rating from 48 to 84 and our star rating from 2.6 to a 4.2 in a few short months.
All this done with complete automation. Templated so at each meaningful employee journey moment communication and feedback is automated and shared. We offer these templates to every customer we have, so they can customize and deploy for their own Employee Experience strategy.
Here's a short video where our CEO shares some questions from the exact campaign we send out 4 times a year and how we were able to implement employee requested change, as well as improve our Glassdoor rating overnight:
Want more information about how to power all of these ideas and more for your company?
Experience.com is the leader in using voice to power business. We'd love to talk with you, and we will always start you with free access to the platform and all templates, along with consulting so you can make an informed decision after seeing the platform in action.
Speak With Someone Today